---
---
---
---
---
---
---
---
---
---
---
STUDENTS WE HEAR YOU!
A message from ADHA President, Matt Crespin, MPH, RDH:
---
---
---
---
---
MDHA Member Moment
President-Elect Virginia Heroux talks about her career as a dental hygienist and the benefits of being an active member of your professional association.
---
---
MDHA Member Moment
Amanda Berthiaume, RDH graduated with honors in 2015 from Springfield Technical Community College (STCC) and is currently pursuing her master's degree in dental hygiene education at Massachusetts College of Pharmacy and Health Sciences. Check out Amanda's interview below and learn more about her helpful tips!
Are You a Student Who Wants to Share Your Dental Hygiene Story?
The MDHA Student Summit Spectator is in search of students to profile for the future newsletter editions!
Tell us about yourself. What dental hygiene school are you attending? What's your favorite (or least favorite) dental hygiene course? Has anything surprised you so far in school? Why did you choose the dental hygiene profession? Will you be attending the 1st Annual Student Summit? If so, what are you looking forward to? What is one thing you want to say to other students in the same position as you? What are your future plans after graduation?
Submit your bio and a recent photo of yourself (no selfies) to: [email protected].
---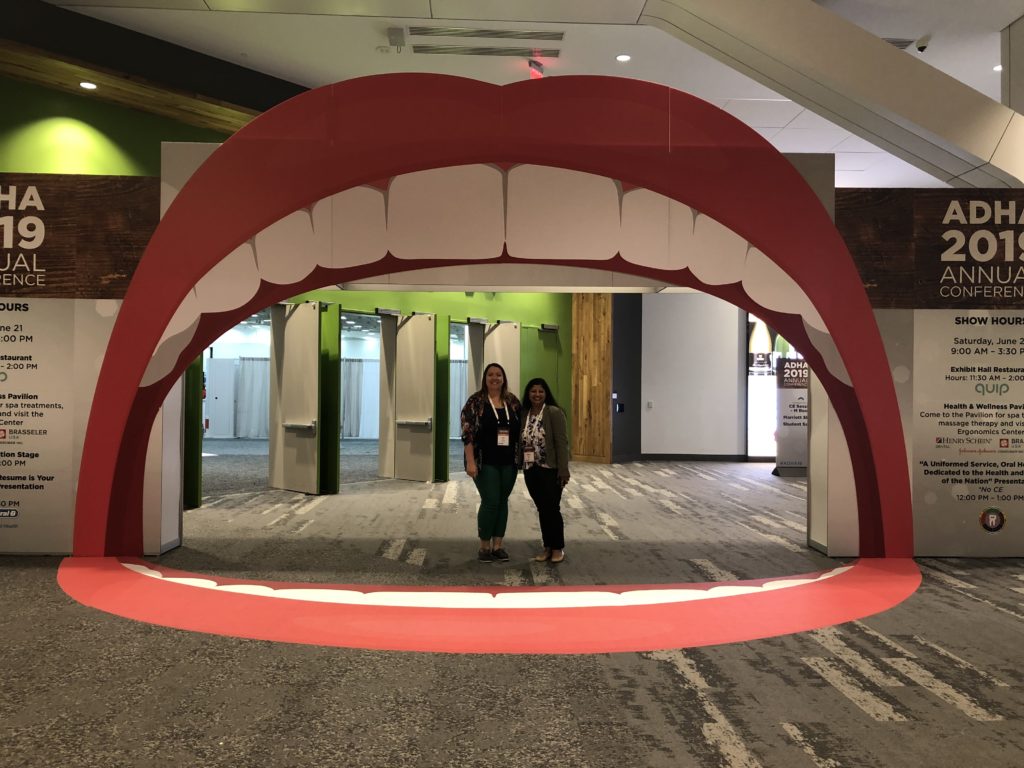 Student News
Pictured here
 Julie Cady – Mentor Liaison (left) and Rashmi Pillai – 2019 Award Winner(right)
Congratulations Rashmi Pillai – Forsyth  School of Dental Hygiene at Massachusetts College of Pharmacy and Health Sciences!  
Rashmi was the 2019  award recipients of The MDHA scholarship to attend ADHA's 96th Annual Session in Louisville, Kentucky
Each year MDHA awards one or two scholarships for new graduates to attend annual session. MDHA welcomed Rashmi to her new profession as a Registered Dental Hygienist.  Please take the time to read her story about her trip to Louisville.  MDHA encourages all second year students to apply for this great scholarship.
Rashmi Pillai: "I had the incredible opportunity to attend 2019 ADHA Conference in Louisville, Kentucky. I was awarded a scholarship from the MDHA. It was my first conference and I cannot help but express my immense pleasure to be a student participant in this mega event.  Being a recent graduate, I was not sure of what to expect from this opportunity. Yet, I was excited to meet so many new colleagues from all over the country who had the same passion I have for this field. Everyone whom I met there or spoke with made me feel very welcome in the conference and dental hygiene community.
 I had the opportunity to attend a few continuing education classes with some of my own professors. I attended the district meetings and the House of Delegate meetings. With the district meetings, I saw how passionate each member of the MDHA was toward each cause. The members heard everyone's opinion and reached decisions together. During the House of Delegates, I saw how issues were discussed and how laws were passed or rejected. This experience was very rewarding, and it showed me how important is it to remain connected with my professional association. Thank you MDHA!!"
---