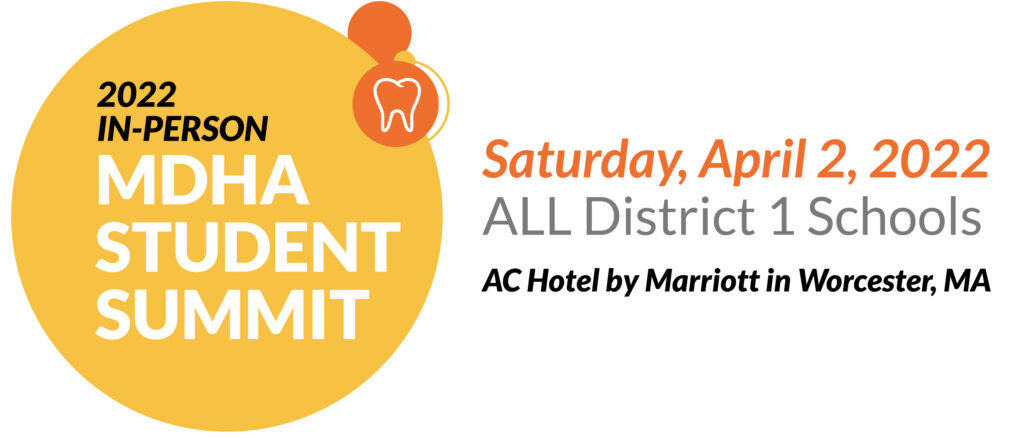 Join us for the 2022 In-Person MDHA Student Summit!
Our 3rd Annual Student Summit is coming for all Dental Hygiene students in Massachusetts, Rhode Island, Vermont, New Hampshire and Maine!
---
Summit Details
When: April 2, 2022
Time: 8am – 3pm
Where: AC Hotel by Marriott in Worcester, MA
Registration: Please see your SADHA Advisors regarding registration information
We are welcoming all District I Dental Hygiene Schools to our Student Summit: Massachusetts, Rhode Island, Vermont, New Hampshire and Maine. We want to welcome back those students who have attended in the past and introduce ourselves to the 1st year students.
We are very excited that The Summit will be back in-person this year, which means we have a lot planned for you all. You can expect:
Mini Board Review
Giveaways, Giveaways, Giveaways
Great Speakers
Activities
Mini Exhibit Hall
Networking with other students/schools
We also will be continuing the tradition in bringing donated homecare supplies, to help the non-profit, Hope&Comfort. Whatever school brings the most donations will receive a prize!
---
Schedule
8:00-9:00: Exhibits and Breakfast
9:00-9:15: Welcome and Greetings
9:15-10:00: Crest Board Review – Sonya Salisbury and Judith Quinlisk
10:00-10:30: Legislature Discussion – Charles and Kate
10:30-11:00: Break and Exhibits
11:00-11:45: Angela Martin – Sponsored by Pacific Dental
11:45-12:30: Radiology – Kelly Jancaitis, RDH, MEd
12:30-1:00: Lunch – Sponsored by Tend
1:00-1:30: Scrubs Fashion Show – Deb Carrier
1:30-2:00: Student Awards & SADHA Advisor Recognition
2:00-3:00: Claire Jeong of StudentRDH
---
Summit Spotlight Speaker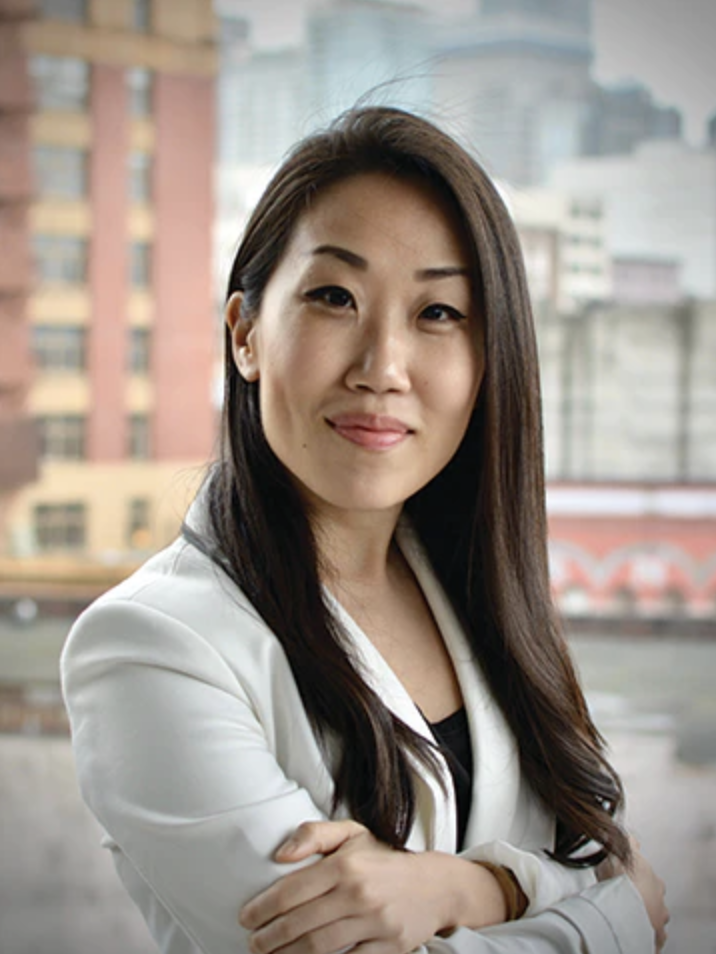 Claire Jeong, MS, RDH, founder of StudentRDH and SmartDA
She's the founder and CEO of StudentRDH – Dental Hygiene Board Review Solutions. A great resource when studying for your boards. StudentRDH has mock board exams, reviews, videos, studying and memory techniques, and so much more! In addition, she created DentalToaster, for dental professionals to learn and earn continuing education credits required for licensure. We are thrilled to welcome her back again!
---
Student Awards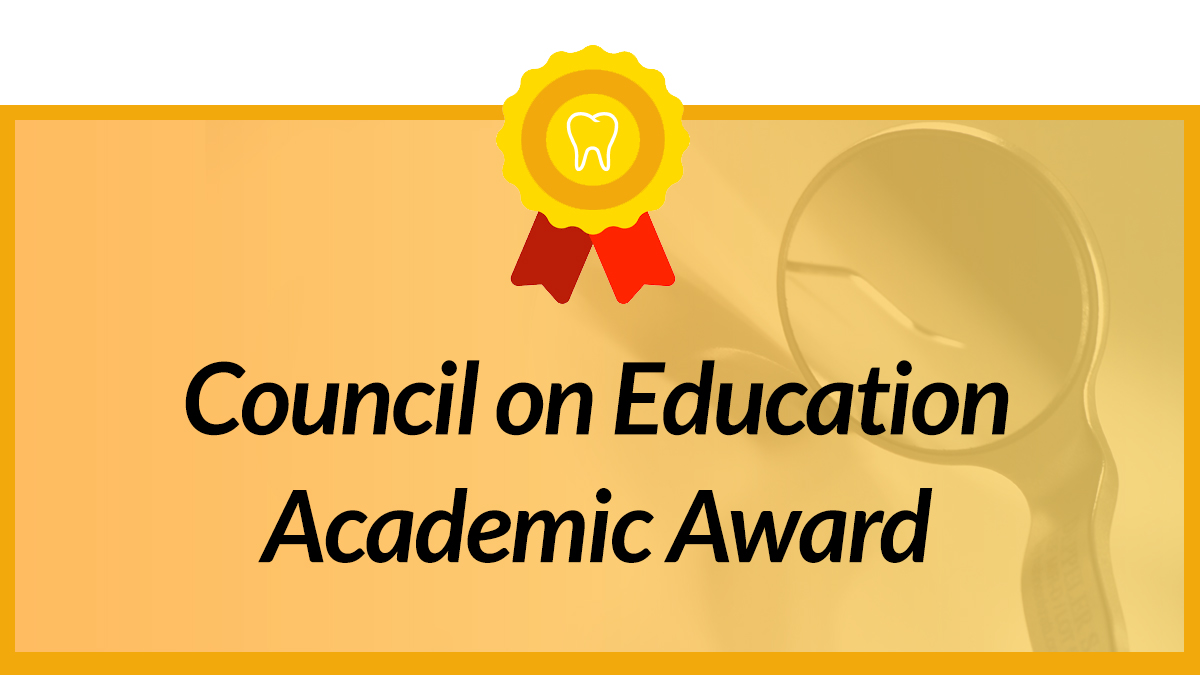 Each Year, the MDHA Provides an
Academic Scholarship to a Graduating Student
Submit to Kristeen Perry:
[email protected]
Deadline for Application: MARCH 1, 2022
Application Criteria:
• Applicants must be a permanent resident of Massachusetts regardless of school choice.
• Applicants must be entering at least their second year in an accredited Dental Hygiene program. Graduating hygienists pursuing higher degrees in dental hygiene, public health or research may also apply.
• A current transcript must be submitted (an unofficial transcript is sufficient). The cumulative average must be 3.2 or higher.
• Two letters of recommendation from Program Directors or faculty of the applicant's school will be required.
• Applicants must write a personal statement indicating their interests, career goals and views of Dental Hygiene. All personal statements shall be no more than two, double spaced typewritten pages.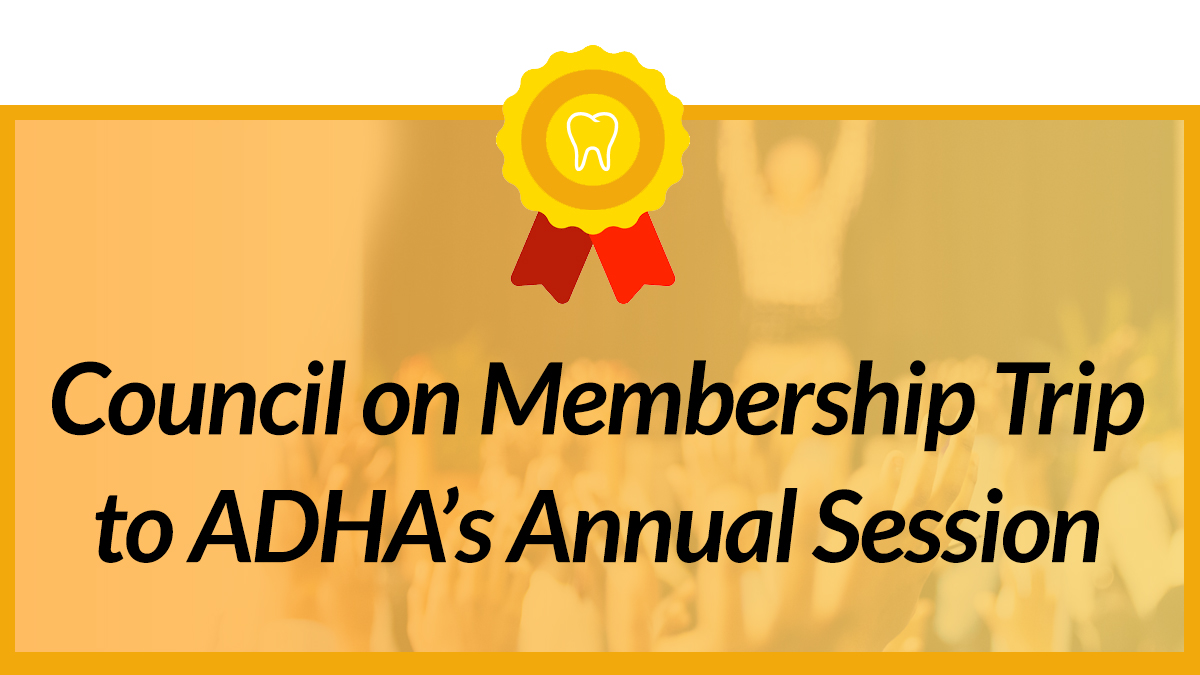 The MDHA Sends 2 Graduating Students to the ADHA CLL Annual Session in Louiville, KY
Submit to Amy Willor:
[email protected]
Deadline for Application: MARCH 1, 2022
Application Criteria:
• Must be an ACTIVE student member of ADHA
• Applicants must be entering at least their second year in an accredited Dental Hygiene program.
• Should be a student who has interest in becoming involved with the Massachusetts Dental Hygienists' Association and should attend at least 3 Board of Trustee meetings either before graduation or following graduation.
• Student must write an essay, no longer than 500 words explaining what they expect to gain from attending ADHA's CLL Annual Session.
• Minimum 1 letter of recommendation from a college professor.
Please include in your application:
• Name of College, Full Name, Home Address, Email & Phone Number
This award includes:
• Airfair and four-night stay at the host hotel in Louisville, KY (recipients will share a room)
• Registration fee for conference
Review the 2022 Graduating Student Delegate Award Instructions HERE
---
Stay up-to-date with our recent MDHA Student Summit Spectator Newsletters!
---
Want to be spotlighted on the next Student Newsletter?
Share what your DH school is doing this semester or why you chose dental hygiene…
Email us at: [email protected]
---
Connect with MDHA on Social Media!
Join our Facebook Group to keep up with all things MDHA!
---
In this profession, you will be a lifelong learner and will collaborate with many dental professionals. As students, you are in the beginning stages of your amazing career. Since 1944, the MDHA has been striving to work side by side with you through all stages of your dental hygiene career.
With this support, the MDHA wants to celebrate the future of our profession, YOU! We have created the Student Summit just for students to celebrate.
Stay tuned for more detailed info on the 2022 Summit, coming soon!