---
---
---
---
---
---
---
---
---
---
---
STUDENTS WE HEAR YOU!
A message from ADHA President, Matt Crespin, MPH, RDH:
---
---
---
---
---
MDHA Member Moment
President-Elect Virginia Heroux talks about her career as a dental hygienist and the benefits of being an active member of your professional association.
---
---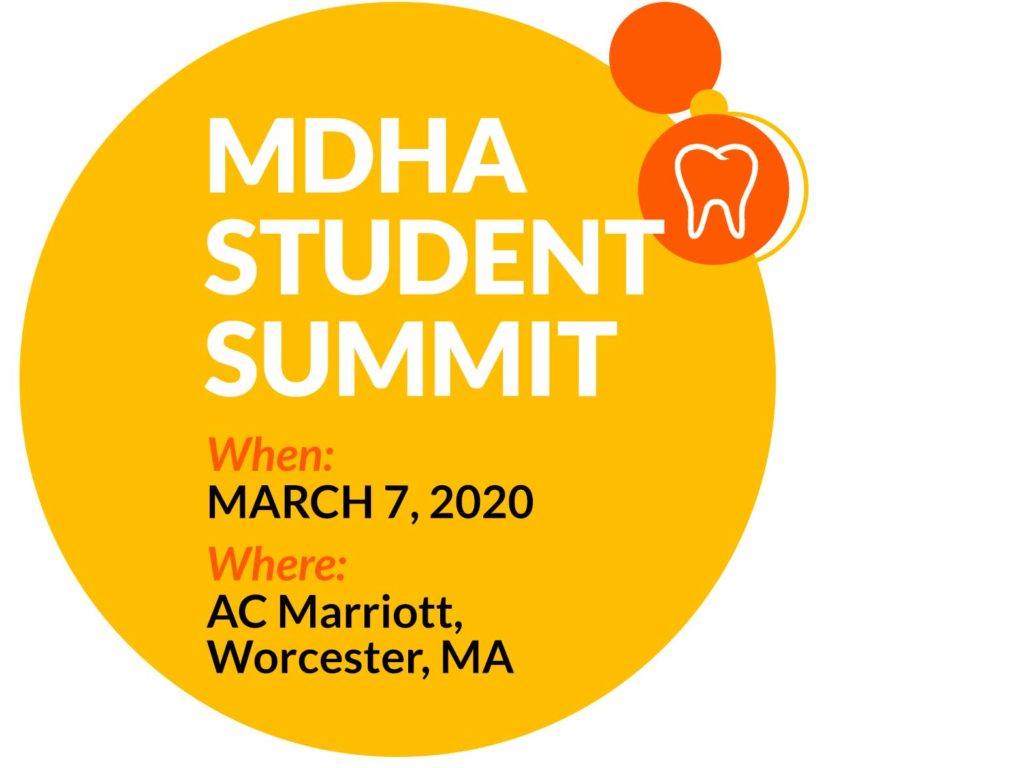 MDHA Would Like to Welcome You to the Dental Profession!
Join us for the MDHA Student Summit!
When: March 7, 2020
Where: AC Marriott, Worcester MA
Time: 8 AM – 4 PM
In this profession, you will be a lifelong learner and will collaborate with many dental professionals. As students, you are in the beginning stages of your amazing career.
Since 1944, the MDHA has been striving to work side by side with you through all stages of your dental hygiene career.
With this support, the MDHA wants to celebrate the future of our profession, YOU! We have created a day just for students to celebrate.
At the MDHA Student Summit, you'll enjoy a day full of fun, networking and professional development:
Complimentary Breakfast
Board Review
Yoga & Stress Reducing Activities
TED Talk Style Discussion with Unique Perspectives of the Profession
Vendors
Games, Prizes & Plenty of GIVEAWAYS!
See you at the Summit!
---
MDHA Member Moment
Amanda Berthiaume, RDH graduated with honors in 2015 from Springfield Technical Community College (STCC) and is currently pursuing her master's degree in dental hygiene education at Massachusetts College of Pharmacy and Health Sciences. Check out Amanda's interview below and learn more about her helpful tips!
Are You a Student Who Wants to Share Your Dental Hygiene Story?
The MDHA Student Summit Spectator is in search of students to profile for the future newsletter editions!
Tell us about yourself. What dental hygiene school are you attending? What's your favorite (or least favorite) dental hygiene course? Has anything surprised you so far in school? Why did you choose the dental hygiene profession? Will you be attending the 1st Annual Student Summit? If so, what are you looking forward to? What is one thing you want to say to other students in the same position as you? What are your future plans after graduation?
Submit your bio and a recent photo of yourself (no selfies) to: [email protected].
---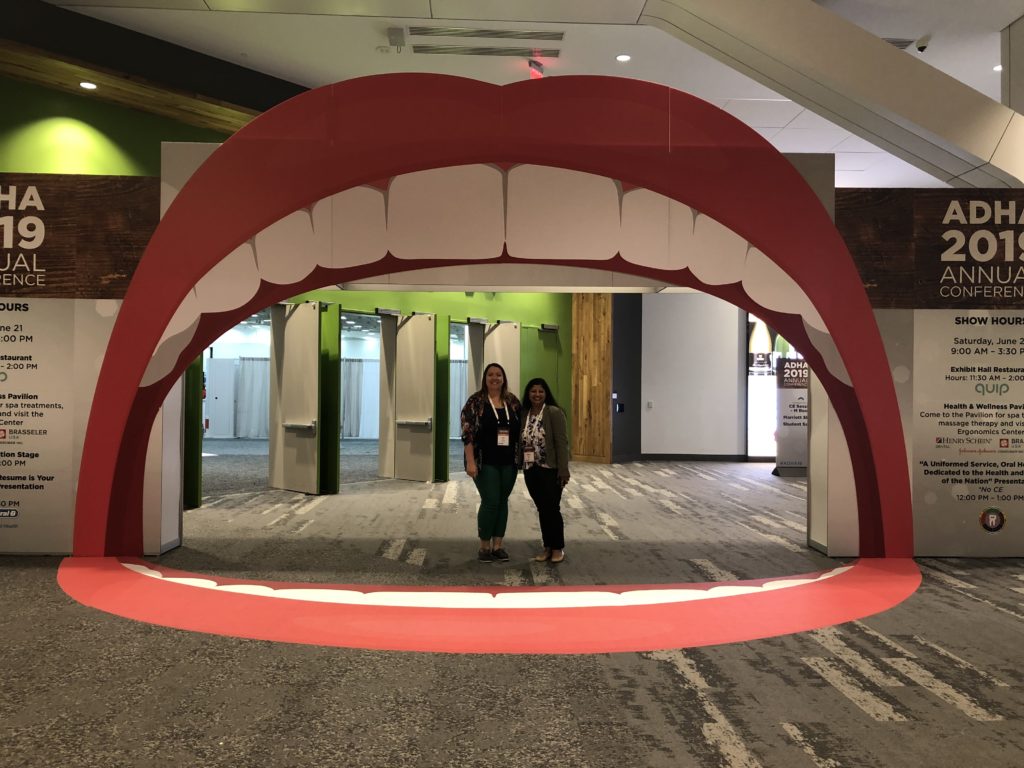 Student News
Pictured here
Julie Cady – Mentor Liaison (left) and Rashmi Pillai – 2019 Award Winner(right)
Congratulations Rashmi Pillai – Forsyth School of Dental Hygiene at Massachusetts College of Pharmacy and Health Sciences!
Rashmi was the 2019 award recipients of The MDHA scholarship to attend ADHA's 96th Annual Session in Louisville, Kentucky
Each year MDHA awards one or two scholarships for new graduates to attend annual session. MDHA welcomed Rashmi to her new profession as a Registered Dental Hygienist. Please take the time to read her story about her trip to Louisville. MDHA encourages all second year students to apply for this great scholarship.
Rashmi Pillai: "I had the incredible opportunity to attend 2019 ADHA Conference in Louisville, Kentucky. I was awarded a scholarship from the MDHA. It was my first conference and I cannot help but express my immense pleasure to be a student participant in this mega event. Being a recent graduate, I was not sure of what to expect from this opportunity. Yet, I was excited to meet so many new colleagues from all over the country who had the same passion I have for this field. Everyone whom I met there or spoke with made me feel very welcome in the conference and dental hygiene community.
I had the opportunity to attend a few continuing education classes with some of my own professors. I attended the district meetings and the House of Delegate meetings. With the district meetings, I saw how passionate each member of the MDHA was toward each cause. The members heard everyone's opinion and reached decisions together. During the House of Delegates, I saw how issues were discussed and how laws were passed or rejected. This experience was very rewarding, and it showed me how important is it to remain connected with my professional association. Thank you MDHA!!"
---
Awards
---
Applicants must be a permanent resident of Massachusetts regardless of school choice.

Applicants must be entering at least their second year in an accredited Dental Hygiene program.

Graduating hygienists pursuing higher degrees in dental hygiene, public health or research may also apply.
A current transcript must be submitted (an unofficial transcript is sufficient).

The cumulative average must be 3.2 or higher.

Two letters of recommendation from Program Directors or faculty of the applicant's school will be required.

Applicants will write a personal statement indicating their interests, career goals and views of Dental Hygiene.

All personal statements shall be no more than two double spaced typewritten pages.
Any problems or questions should be directed to:
Amanda Berthiaume
MDHA – Council Chair of Education and Research
Email address: [email protected]
---
The Massachusetts Dental Hygienists' Association would like to send two graduating students on a trip to ADHA's CLL 97th Annual Session in New Orleans, Louisiana. These students must be active student members of ADHA, and should have an interest in becoming involved with the MDHA. The association hopes to educate students about what its role is in each dental hygienist's career before and after they graduate.
---
Students have a unique opportunity to apply for a position as a Student Delegate. As a Student Delegate, you not only represent all student members of the American Dental Hygienists' Association, but you also sit on the House of Delegates floor during all three meetings. Each student will be considered for the student delegate position.
Student Delegates are funded to attend their district workshop and the American Dental Hygienists' Association's Annual Session. Funding consists of airfare, lodging (two students per room), ground transportation and per diem. Because funds may vary annually, please contact your District Trustee for the exact dollar amount.
---
Mary Dole (students enrolled in Master's Degree Level Program)
Each year the American Dental Hygienists' Association of Massachusetts will award a dental hygiene student $500.00 which will be applied to tuition and fees.