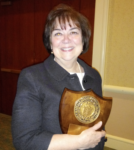 Denise Tétreault is an Associate Professor at Regis College, the Program Director of the Dental Hygiene Department and a Registered Dental Hygienist. She holds a Local Anesthesia Permit L, and CPR certification and is a member of the American Dental Hygienists Association, the Massachusetts Dental Hygienists Association, Southeastern Massachusetts Dental Hygienists Association, the American Dental Education Association. She is also a Consultant Member for the Commission on Dental Competency Assessments.
Career highlights include being named Dental Hygienist of the Year (2006- Southeastern Massachusetts Dental Hygiene Association) and speaking to a group of former students in continuing education classes on the topic of dental local anesthesia. She also regularly facilitates the state-mandated Local Anesthesia continuing education course for practicing dental hygienists who are seeking to acquire the Local Anesthesia permit.
More importantly, a career highlight is that she has been instrumental in transitioning students from the sudden and unexpected closing of the Mount Ida College Dental Hygiene Program in May 2018 to Regis College, as well as facilitating the successful transfer of CODA accreditation in collaboration with Dr. Karen Hallisey-Pesa.
Congratulations Denise!