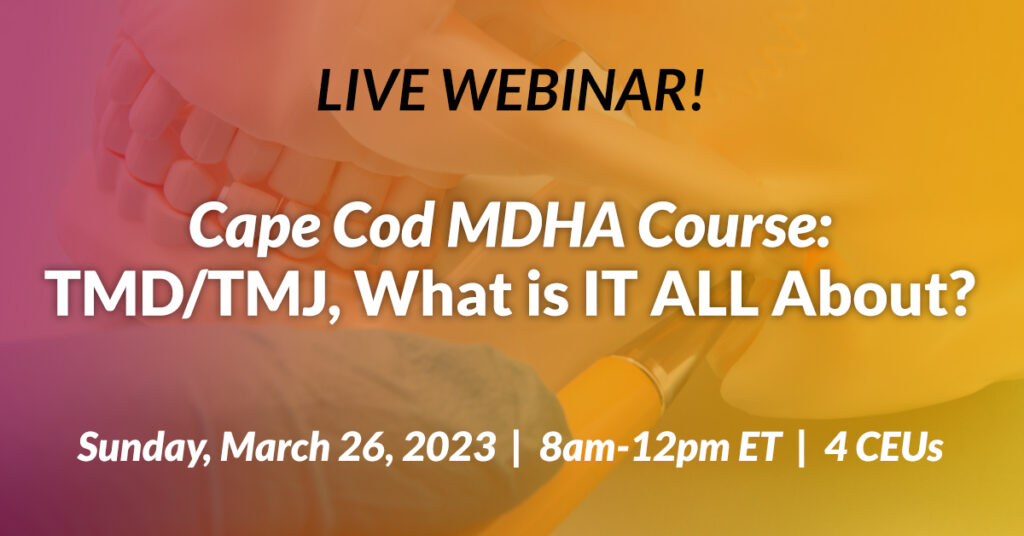 ---
Details:
This Course is a Live Webinar and will be live-streamed
DATE & TIME: Sunday, March 26, 2023 | 8am-12:00pm EST
COST: Members: $40 | Non-members: $45
CEU: 4.0 Credit Hours
REGISTRATION: Click Here to Register with CEZOOM! (Registration opens February 7, 2023)
---
Overview:
Presidential MDHA Update- Amanda Berthiaume. RDH, CDA,MSDH
Temporomandibular Disorders are a group of conditions, often painful, that affects the Temporomandibular Joint and the muscles of mastication. It has been estimated by the National Institutes of Health that approximately 10 million people are affected. As dental team members, many are unaware of the signs, symptoms, and treatments available for these patients. This course will provide the dental hygienist and dental team members, who may have only the basic knowledge of the TM joint, with a very detailed and informed presentation involving the structure and function of the joint, etiological factors of disease, examination and evaluation methods used, and treatment modalities offered. The role of the dental hygienist in TMD will also be discussed. A personal discussion will also be offered.
---
Program Goal:
To provide a basic understanding of Temporomandibular Joint Disorders so that dental team members can effectively communicate with patients about these disorders.
---
Program Objectives:
Upon completion of the course the participant should be able to:
Demonstrate a basic review of the anatomy of the Temporomandibular Joint
Identify the signs and symptoms of TMD (Temporomandibular Disorders) that can be recognized in patients
Explain the possible etiological factors which contribute to the development of TMD
Discuss the various methods of evaluation and treatment of TMD patients
Discuss the role of the dental team in TMD in providing comprehensive care for TMD patients
---
Speaker:
Ann-Marie C. DePalma, CDA, RDH, MEd, CDIPC, FADIA, FAADH is a graduate of the Forsyth School for Dental Hygienists, Northeastern University and the University of Massachusetts Boston. She is the 2017 Esther Wilkins Distinguished Alumni of Forsyth Award recipient. Ann-Marie has been published in dental and dental hygiene publications and textbooks. Ann-Marie presents continuing education programs for dental team members on a variety of topics. She has been employed as a software trainer, a business/clinical advisor for a national dental practice management company, a faculty member of a dental hygiene program and program chair of a dental assisting program after having been employed in clinical hygiene for a number of years.