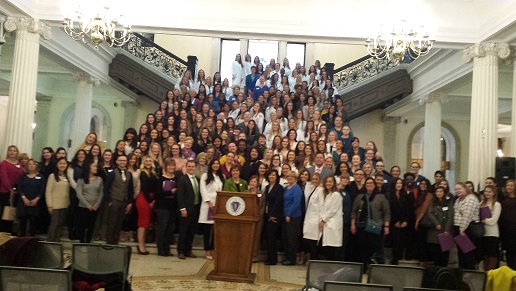 Friends and colleagues:
LEGISLATIVE UPDATE
LEGISLATIVE PROCESS BACKGROUND
The Massachusetts legislature conducts its business on a two-year cycle.  Bills for the current session, which concludes on January 2nd, 2019, were filed in January 2017.  Each bill is assigned a number and subsequently referred to a committee.  Most healthcare bills are referred to the Joint Committee on Public Health.  The individual committees hold public hearings for interested parties to submit both oral and written testimony; thereafter, the committee meets in executive session and votes whether to report the bills out favorably.  Bills reported out favorably are referred to a second committee and continue along the legislative process.  Bills not reported out favorably by the assigned date are sent to study, which means they will not be considered for the remainder of that legislative session.  Most bills are assigned to/voted upon by three committees prior to being brought to the floor for a vote by the entire legislative branch.  Bills approved by one legislative branch are then sent to the other branch for a vote.  Following passage by both branches, bills are sent to the governor for his signature.  July 31st of the second year concludes the formal legislative session; thereafter, the legislature meets in informal session until the legislative session concludes.  Formal votes do not occur during informal sessions so that a bill brought to the floor for consideration will immediately fail if one legislator states that he/she is opposed to the bill.  Therefore, bills deemed controversial are generally given top priority to maximize their opportunity of passage during the formal session.
DENTAL THERAPY UPDATE
H2474/S1169 "An Act Authorizing Dental Therapists to Expand Access to Oral Health" was introduced for the 2017-2018 legislative session by Majority Leader Harriette L. Chandler and Representatives Smitty Pignatelli and Kate Hogan.  The profession's name was changed from Dental Hygiene Practitioner to Dental Therapist to be consistent with the CODA Accreditation Standards for this new profession.  The bill was referred to the Joint Committee on Public Health and heard at the Committee's public hearing on September 12th, 2017.  MDHA provided oral and written testimony in support of the bill at the hearing.  H2474 was reported out favorably from the Joint Committee on Public Health on April 24th, 2018 and referred to the Joint Committee on Health Care Financing following private negotiations with the Massachusetts Dental Society from which MDHA was excluded participation.  At that point the bill was renumbered and retitled to H4454 "An Act to improve oral health for all Massachusetts residents".  It was reported favorably out of the Joint Committee on Health Care Financing on June 1st, 2018 and referred to the Joint Committee on Ways and Means.  Separately, language creating Dental Therapy in Massachusetts had also been included in the Senate Comprehensive Cost Containment and Reform bill.  In the final weeks of the legislative session, the House leadership decided to include language creating Dental Therapy in the Comprehensive Health Care Reform legislation that was being debated in the Joint Conference Committee.  The formal session concluded on July 31st without the conference committee reaching agreement on the Comprehensive Health Care Reform legislation.  Currently, there is interest among the Dental Therapy stand alone bill's sponsors to move the bill forward during the informal session that concludes on January 2nd, 2019.  Please feel free to contact Katherine Pelullo, CRP Chair, for clarification/questions/comments.  Her email address is [email protected]
All the best,
Massachusetts Dental Hygienists' Association
Council on Regulations & Practice
Katherine Pelullo RDH MEd Chair
Carolyn Wehler RDH MPH
E Jane Crocker RDH
Holly Arcadipane RDH BSDH, MS