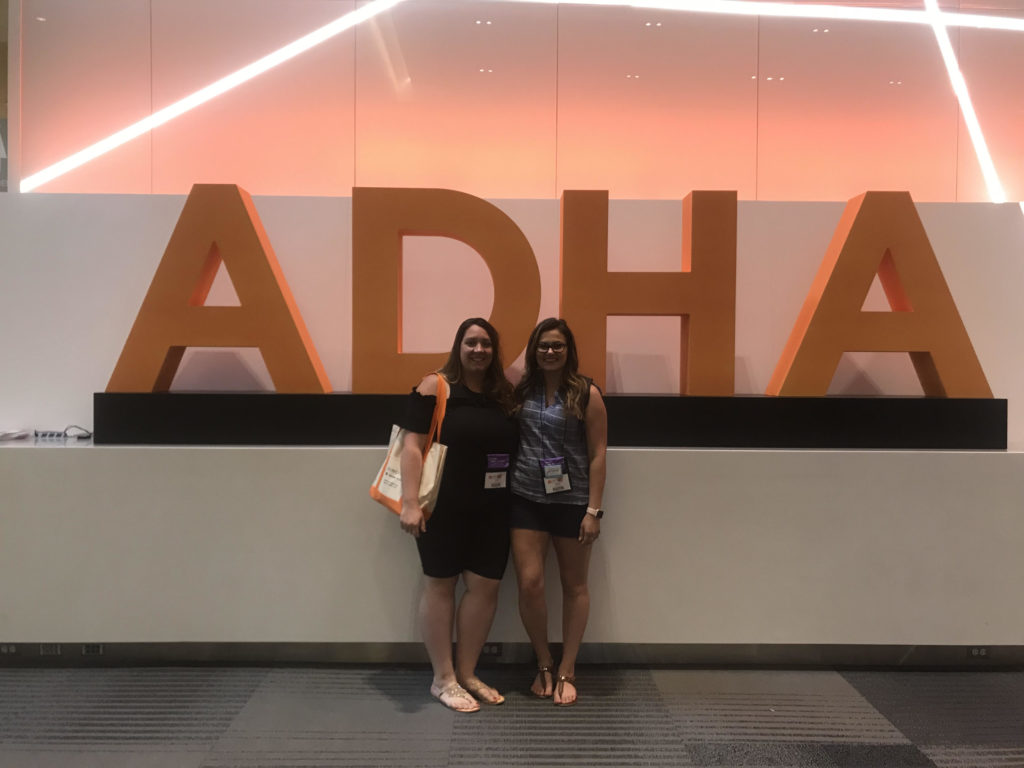 Each year MDHA gives the opportunity to two new graduates to attend ADHA Annual Session – please meet Julia Lavigne (right) and Julie Cady (left).
Julie Lavigne: "I was so happy when I was chosen to attend the annual session. Being a recent graduate I was so excited to meet my new colleagues from around the country and learn more about what I can do to be an active member of the ADHA community. It was amazing to see how excited others were to still be practicing in the field after 20-30 years. Hearing everyone's success story and what dental hygiene has meant and done for them was one of my favorite parts.  I then had the opportunity to sit in on the district meetings and see my colleagues speak up for things they believe in. Everyone's voice was heard and I loved being a part of it. I can't wait to attend next years annual session with my colleagues and to continue to be an active member of the ADHA. Thank you MDHA for this opportunity!"
Julie Cady: "I had the absolute best pleasure to attend the Annual Session this year as a student delegate. I was one of the two students that were chosen to attend as a recent graduate. What I expected to gain from attending ADHA's 95th Annual Session was to be able to participate and experience what the ADHA was working for. I wanted to see what all the buzz was about. I wanted to experience firsthand without the words and visions of others.
And all I can say is "WOW"!! This experience exceeded my expectations! I am truly grateful for the opportunity. I now understand why all members absolutely LOVE attending the Annual Session.
My first day there I attended the 5k walk/run. It was a great event to kick-off for all the fun activities for the rest of the week. Not to mention, it was my first 5k race and I had the honor of walking it with my very own professor who I admire and adore so much! After the race, I attended the After-Glow party. I networked with fellow colleagues and gained knowledge from other individuals who are practicing in the dental hygiene line of work. Any person I spoke with was very welcoming, inviting and excited to see a student delegate. I attended workshops and classes where I earned CEU credits. I attended the exhibition floor where I spoke to representatives of each company about their products. Even though I was a student delegate, they treated me with respect and took the time to explain what each product was all about. (I needed a second suitcase to fit all the products I received from the venues.) I attended the President's Dinner which was a lovely event with our President of the ADHA. I never thought I would be dancing right next to the President of the association. I attended the House of Delegate meetings. I observed how each topic was discussed and how laws and/or issues are passed or rejected. I found these meetings very impactful. If you are truly passionate about certain topics, this is where your voice is heard. It is not every day I am able to get an opportunity like this. I felt this experience was very inspiring. I see the value in my membership and what the association is doing to keep our profession growing. I plan to stay present and continue to support in any way that I can. In fact, I made a pact with a fellow classmate that we must attend the annual session every year. I am honored and extremely grateful for the opportunity. I cannot thank MDHA enough for what they did for me."