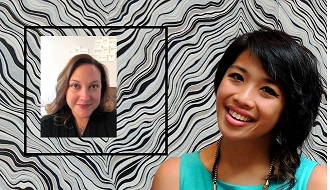 Attending the ADHA's 95th Annual Conference in Columbus Ohio as a student liaison with student delegates was one of the most amazing experiences I've had since graduating from Dental Hygiene school. During the conference we were able to meet hygienists from all over the globe from Alaska to Saudi Arabia. Coming together with my district (District 1 aka District fun!) during the day to take CEUS and activities at night, such as the fun-run and after party.  All of this made me realize that I'm apart of an amazing tribe. Observing the district meetings and understanding how the organization comes together on important decisions that impact our profession was humbling and I hope to play a more active role at the 96th Annual Conference, which we are already planning to attend! Thank you to Lisa Laspina, Paula Morrison and the MDHA for this life changing experience!
Amanda Berthiaume, RDH, BS  (left)
I was thrilled to have the opportunity to represent MDHA as a Mentor Liaison this past June at ADHA's Annual Session in Columbus, Ohio.  Upon my arrival, I was warmly greeted by other attendees and immediately felt welcome.  As I initially explored the exhibit hall, I was delighted to learn more about cutting-edge dental products and chatting with other dental hygienists.
I felt honored to witness the process of dental hygiene policy change firsthand at the House of Delegates meetings.  It was truly inspiring to be surrounded by so many passionate dental hygienists, both new and seasoned.  I felt empowered by the high level of knowledge, passion, dedication, and insight of the individuals in my profession.
I thoroughly enjoyed exploring a new city and creating memories with both familiar and new faces.  Attending Annual Session as a Mentor Liaison was an unforgettable experience, certainly one of the highlights of my dental hygiene career!  I look forward to attending another conference in the future and enhancing the dental hygiene profession.
Monica Kwan RDH (right)