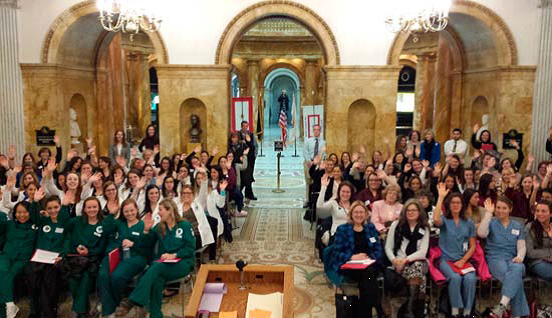 On behalf of the Massachusetts Dental Hygienists'
Association; WELCOME! We are delighted to invite you
to attend The Conference 2017, "BETTER TOGETHER"
the premiere MA dental hygiene event, being held
September 15th – September 17th at the Crowne Plaza
Hotel ("the Verve") in Natick, MA. We have invited
Exhibitors on both Friday and Saturday to showcase
their services and products, allowing for 2 CEU's for
Conference attendance. The following pages will
provide complete details on the meeting, along with
the many benefits you will receive. From enhancing
your professional skills, networking with colleagues and
relaxing with friends to viewing and sampling the latest
products from a multitude of exhibitors, this meeting is
a must attend event! Make sure to visit our sponsors to
discover the latest products and have them stamp your
Sponsor Card. Turn in your fully stamped card for several
chances to win great prizes being drawn throughout the
day both Friday and Saturday.
MDHA is still partnering with Dress for Success to collect
gently used handbags. With each gently used handbag
you bring, you will be given a ticket for a chance to win
a new designer handbag. Don't forget to purchase your
tickets for our annual basket raffle. Handbag and raffle
winners will be announced at the President's Reception
and Awards ceremony on Saturday evening.
JOIN US FRIDAY all day as first we delve into Name It,
Claim It, Treat It: Making the Shift presented by Patti
DiGangi RDH, BS. After lunch you have your choice
of afternoon courses, either: Fast and Furious Pharm
Review with Kate Soal RDH, MSDH or Dental Hygiene
and the Patient Record: The fundamentals and
importance of proper chart documentation with Erin
Kierce RDH, MPH. BONUS: Attend our Sponsor Product
Presentation during lunch to receive an additional 1 Free
CEU.
SATURDAY MORNING begins with complimentary
coffee and 1 Free CEU at the MDHA update. There will
be a review of delegable duties – "Are you sure you know
what you can and can't do?" and a report on how your
association has been working for you!
ALSO ON SATURDAY: 1 in 5 persons – approximately 43.8
million – in the US will suffer from some form of mental
health challenge in their lifetime; 1 in 25 – 9.8 million –
will suffer a severe mental illness. MDHA is proud to
collaborate with the National Alliance on Mental Illness
– Massachusetts, In Our Own Voice program director
Eliza Williamson, MEd, MA and Ellen Patterson MD, MA,
Director of Interprofessional Education at TUSDM and
William Jackson PsyD, assistant professor at TUSDM to
present the Mental Health and Oral Health Symposium.
Additional Saturday morning classes include:
Generational Differences Related to the RDH –Trisha A.
Cloutier RDH, MA; Back vs. Front, Clinical vs Business,
Let's Get Along to Improve Patient Care! Ann-Marie
DePalma RDH, MEd and Ergonomic Essentials for a
Healthy Dental Hygiene Practice – Frances Kistner PT,
PhD.
Afternoon highlights include: Ready to Make a Change?
Increasing Chairside Efficiency and Patient Home
Care Compliance – Amber Auger RDH, MPH and Pre-
Diabetes: Could it Be You? – Scherrie Keating RN, CDE.
The NEW ENGLAND EDUCATOR'S MEETING will be
held Saturday afternoon and will welcome Dr. Herbert
Bader DDS, FACD, FICD.
Saturday STUDENT EVENT: Take a break from studying
and join the fun and laughter. After the student business
meeting, compete for lots of prizes with the dental
hygiene Bingo game. Learn some new relaxation and
yoga techniques to get you through the tough days and
so much more.
Please join us Saturday evening at 5:00 pm for drinks and
hors d'oeuvres at the President's Reception and Awards
Ceremony. Enjoy relaxing with friends and colleagues
while we recognize the hard work and achievements
of outstanding dental hygienists and students. All are
welcome!
SUNDAY MORNING and the classes continue! Barbara
Sheerin RDH, MEd presents: Massachusetts Public
Health Dental Hygiene Practice Continuing Education.
Luann Ellsessar RDH, BS will be offering American Heart
Association BLS CPR with special consideration in the
dental setting. *Please note this popular class is limited
to 20 persons*
MDHA has gone green and will be e-mailing course
materials directly to registrants in advance, so please
provide an e-mail address. We also will no longer mail a
printed course catalog but you may either register online
or print and mail or fax the following registration sheet.
Don't miss the opportunity to be part of the knowledge,
network, comradery and fun as we celebrate you while
acknowledging that we are "BETTER TOGETHER!"
View Conference Brochure Here
Register Online Here