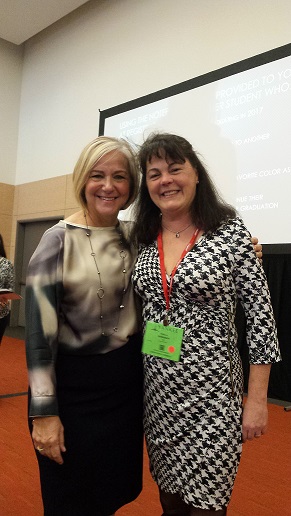 In October MDHA held their annual event in honor of Dental Hygiene Month. A visit to The Museum of Russian Icons, a non-profit museum located in Clinton. We were able to view the collection of over 700 Icons and related artifacts, a private collection. All attendees were greeted by our Event Coordinator Mary Kellerman. The day started with a guided tour, and of course ended with a fabulous lunch!
In November Mount Wachusett Community College hosted a Student Research Event. Students shared their research results on current trends in dentistry and oral health. The students did an excellent job, and it was a nice evening, I would encourage everyone to attend this event in the future.
The holidays came and went more quickly than ever and then there was YANKEE! . Many of us attended Yankee, starting with the Awards Ceremony on Wednesday Evening. Awards were presented to Jacklyn Ventura for "2017 Dental Hygienist of The Year" and E Jane Crocker for "2017 Auxiliary Volunteer." Congratulations to them both, job well done.
On Friday evening we honored President Paula Morrison at the Presidents Reception with some excellent food and time to visit with our colleagues. Ann-Marie DePalma was the recipient of the Esther Wilkins Distinguished Alumni Award from Forsyth School of Dental Hygiene at MCPHS – Congratulations to Ann-Marie.
A shout out to Mount Wachusett Community College for hosting the MDHA Student Meeting. President Paula Morrison presented three (3) Students with MDHA Academic Scholarship. Congratulations to Amanda Baganha, Bristol Community College; Kaitlyn Machado, Bristol Community College; and Trisha Chenevert from Springfield Technical Community College – best wishes as you continue on with your studies. Special guest speaker at the Student Meeting was ADHA CEO Ann Batrell, thank you Ann for sharing your success with our students, what an inspiration.
Saturday at our annual MDHA Luncheon, Amy Booth CDA, RDH, MEd presented "Living with Diabetes." Thank you Amy for an excellent overview.
Thank you to everyone who helped at the MDHA Hygienist's Lounge we couldn't do it without you.
As the days continue to get longer and the weather gets warmer, we hope to see you all at Lobby Day on February 28 – this is a time for your voice to be heard at the State House. CHECK OUT PHOTOS FROM ALL EVENTS IN THE MDHA PHOTO GALLERY