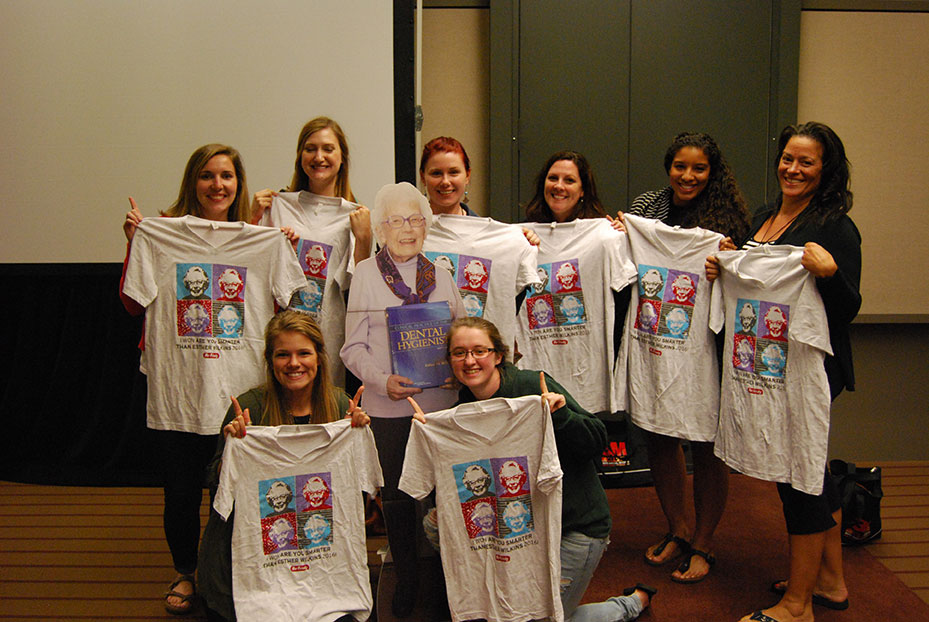 Each year 2 student scholarships are awarded to ADHA Annual Session. The recipients for the 2016 award were Sara Jones (front right) from Mt. Ida College and Vanessa Powers (top left) from Cape Cod Community College. It was a pleasure to have them attend and would like to share their stories…
Sara Jones (front right)
Seeing myself on the latest cover of Access magazine (along with about 100 others)! is a nice reminder of the time I spent at the Annual Session with fellow District #1 students and now colleagues.  Attending the ADHA conference in Pittsburgh was an awesome personal and professional experience.  I had so much fun getting to know others and learning how bi-laws and decisions are made.  The introduction to new products designed to benefit both our ergonomic health and patient oral health was fun!  I was also able to participate in the first annual 5K road race – my time wasn't that great but it was for a great cause!
Thanks again MDHA for the opportunity to attend the conference with you.  It was truly the icing on the cake following graduation.  I'm so happy to have met so many great people and look forward to continuing to work with you to promote the values of and benefits of MDHA membership.
Vanessa Powers (top left)
It was truly an honor to attend the 93rd ADHA Annual Session with MDHA. The city of Pittsburgh and all of its bridges was the perfect backdrop for starting the transition from student to professional member. The week was filled with equal amounts of teambuilding, networking, and fun.
Crest and Oral-B hosted an excellent session for Emerging Professionals. We heard from a panel of Dental Professionals from all walks of life and were able to ask questions about their experiences. For the second year in a row the District 1 Students took home 1st place in "Are You Smarter than Esther Wilkins?" trivia hosted by Hu-Friedy.  What started as a few strangers sitting around a table, ended up as a victorious group of future hygienists excited to accomplish a goal together.  The fun extended into the night as we danced the night away and mingled with fellow District 1 attendees at the President's Reception.
From start to finish one thing was clear, there is so much love and dedication to the profession of Dental Hygiene across the country. Being able to attend an Annual Session is a perfect opportunity to experience it all first hand.